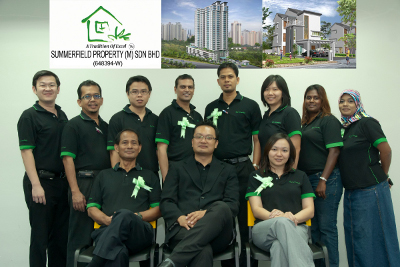 Summerfield Property (M) Sdn Bhd is a group of property consultants specializing in new project in Klang Valley, Penang and Johor. The projects we work on are primarily fast-moving, and we are committed to delivery the result in short period of time.The company came into existence in 2001 as an exclusive marketing agent for many new housing projects. Since then, the company has been involved in running road shows & launching to promote apartments, double-storey link houses, town villas, service condominiums and shop lots and many more others.
As a result of our commitment and dedication to quality and customer satisfaction, we are the best in the new property marketing company in Kajang, Puchong,Seri Kembangan and Bangi area. We have sold over 5000 units of houses in the last 10 years, as our list of satisfied clientele continues to grow.
The company helps our developer client to quickly establish substantial initial sales of property so that the development can proceed confidently. We also help our home buyers to get competitive loan and flexible financing packages from banks.
VISION AND MISSION
Our Vision
To be the leading Real Estate Company of choice
Our Mission
To provide the excellence service for our client
Our Values
Gratitude
Respect
Integrity
Collaboration
Our Sales & Culture
In Business we excel
In Family we harmony
In society we contribute
Our Strategy
Be always progressive through:
Effective new idea & system
Think out of the box
Dynamic leadership development
An Impractical Brand to improve on intellectual property
Our Target
COMPANY STRUCTURE